So I know a lot of language learners are obsessed with perfection almost to the point of irritation. no nobody gives a shit about how your handwriting improved for the katakana or the hanguel or whatever from writing it over and over or copying long ass passages of god knows what… perhaps you should put your time to better use. they just irritate me because in away they're promoting awful learning methods and also seem oblivious or narrow-minded to other various methods of learning out there. my school of thought is I suffered at the hands of compulsory education with the mind-numbing, awful activities like work-sheets or copyings things etc etc…. why are you willing subjecting yourself to this torture on your free time? One of the biggest realizations I made when I was learning Japanese was that I was spending so much time learning about how to learn or various ways to learn or what are bad ways to learn despite years of compulsory conditioning trying to convince me that it's effective. But I don't regret spending that time learning about learning because I don't want to waste any more time on shit and in the overall scheme of things you waste more time learning ineffectively by not learning about learning.
ANYWAYS recently I was outputting my Korean because I had to communicate with this korean person via email (by the way I see no appeal in "pen-pals" whatsoever… I am only communicating with someone if I have something to communicate to that specific person). I just wanted to communicate and deliver the information I wanted to deliver and I also wanted to get answers from this person. My attitude going into this is "ugh let's just end this in the most painless, efficient way possible." (I work full time, I have shit to do, it's the just natural attitude for me to have)
In my view, it's best to not give a shit and just do whatever is least painful and strenuous because that will lead to MORE output in volume compared to re-reading your sentences or clauses or using the dictinoary to look up crap you don't have to or just stressing about it because you can't write as eloquently as a native ( this is such a stupid and asinine and invalid worry. you should be asking yourself WHY WOULD I BE ABLE TO WROTE ELOQUENTLY seeing as you only spent x hours listening/reading/writing/speaking. i wish more people would read AJATT). Because I set this low standard for myself OF COMMUNICATION I did not waste my time looking up words in the dictinoary or re-reading and re-writing my sentences obsessively. I did do the final re-read just to make sure it made sense and my message would be understood by the receiving party. Ultimately I did "proof-read" albeit lazily and half-assedly and I later realized there were still typos when I sent it. But I did not care because my goal was communication and I knew despite whatever mistakes or typos or unnaturalnness or clunkiness of the sentence or fragment the person will understand what I'm saying. And I genuinely did not care if my Korean output seems worse than actually it is due to typos and lack of effort on my effort. There's a level that you reach in the upper intermediate stage where you know your writing is full of mistakes and it's unnatural but you know for sure that the native person will understand what you wrote ( I will link my only lang-8 entry that's in Korean so you can get some idea of my ability to output but honestly depending what I want to output (writing an entry on lang-8 vs cmomunicating wtih someone via email is completely different) the shit can get real raw and terrible as any language learner knows … I'm sure the lang-8 entry gives the impression that my passive vocab/grammar is smaller than it actually is.) in fact the person i was communicating with via email started writing to me in english because my korean output is so bad lol. my korean comprehension ability is great though! ) . some of the stuff you can obsess over with writing well is so minor with respect to comprehension like the ㅅㅅㅅㅅ you put in to make sentences more formal and respectful. I just shoved the ㅅ shit in when I felt like it because this person's isn't going to get pissed at me for not using it when I shouldn't have or not using it when I should have because he knows I'm not fluent in Korean and he should be able to tell my main goal is communication since he don't speak fluent english.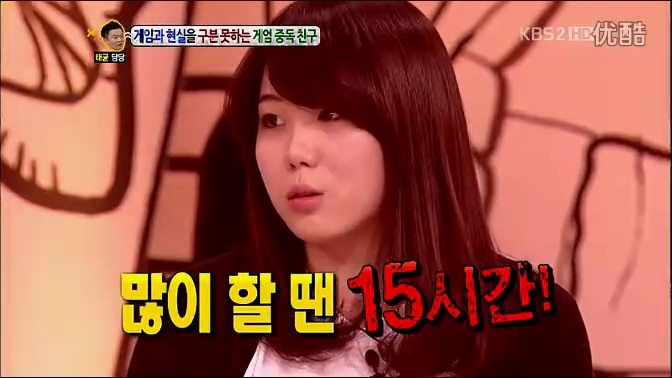 <- she's talking about games clearly.
So as we have our e-mail exchanges I start to give a shit unfortunately. I take this as a bad thing because I'm wasting time that could be put to better use and it's just emails so it doesn't matter if it's not perfect since the only goal is communication. ALSO EVEN if I look up whatever my email will still have mistakes. what happened was I GOOGLED 오랫만 WITH QUOTES because I was unsure if it was correct or not and google says it's a common mistake it's actualy oreNNNN man. before I googled it I was thinking o-ret-man is correct and oreNNN is wrong or vice versa or they're BOTH CORRECT. So after I did what I did I was kinda disappointed in myself for wasting my time googling. so then he responds and he opens his email with OREtttttT MAN so I feel even more irritated at myself wasting time on googling shit. it's so minor, it don't matter and he don't even know if it's incorrect or he knows but still wants to use it (I know that feeling). Hell I felt like using it and I should've just gone for it. You know what I'm gonna ask him about it… I only make a big deal of this because it will be if I get into this tunnel-vision mindset of obsessing over little shit and waste a gargantuan amount of time. It seems like it's not a lot of time but it really adds up if you're constantly obsessing over minuscule crap.
Anyways, my ability to output in Korean is stagnant and I tend to or rather I feel lazy so I output my Japanese-style Korean which doesn't surprise me. Korean grammar just seems more complex and complicated than Japanese when it comes to outputting. The biggest reason of course is that I do not practice output in Korean. I have no need or desire so I don't practice it so obviously I never improve. My comprehension has been improving leaps and bounds since it's a passive ability that I've been cultivating effectively.  For Japanese I was so passionate about it, I practiced output ASAP as in trying to think in Japanese as much as possible which led me to think about how to express xyz in Japanese. In the beginning, I spoke to extremely choppy, short, SIMPLE sentences or fragments or even phrases because my Japanese was so limited and I didn't want to fall into the trap of making up on "own Japanese."  IT totally worked because my output in Japanese improved leaps and bounds from that and COMPREHENSIBLE/COMPELLING input & sooo input only (for KOrean) doesn't work. I have no problem understanding Korean and noticing how stuff is expressed in a really Korean way (different from Japanese and English) but when it comes to output I don't remember shit. It's like trying to remember a fancy speech or some dialogue in a movie or tv show word for word. I always remember the general idea and flow… enough to pass a multiple choice test lol.
I don't have a desire to output or think in Korean… it's too hardcore lol. I don't have that kind of passion.