I'm into AsianBeauty and check out the reddit thread there and blogs and also listen to the podcast snailcast.
I wanted to review 2 KOREAN cleansers from LJH and Cosrx. Both are low-ph foaming cleansers that contain tea tree oil.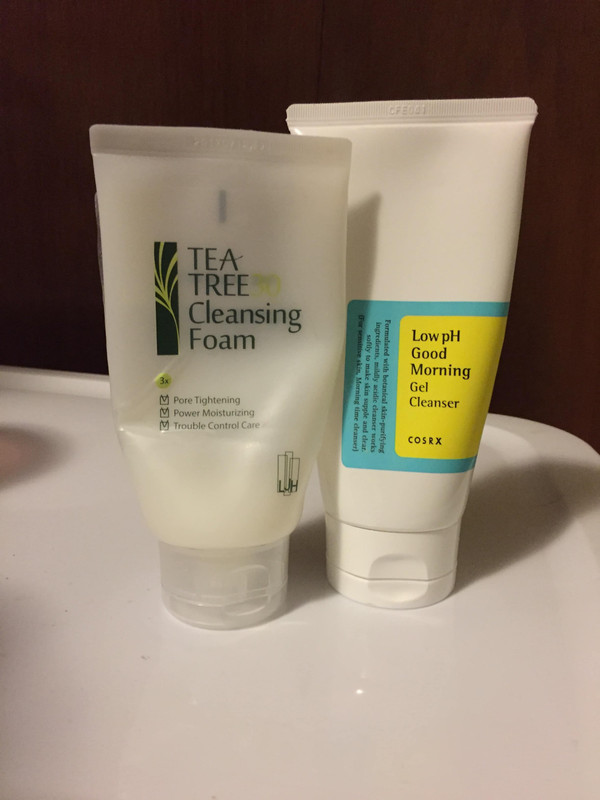 ( I was going to use a filter on my iphone to correct the color or whatever and then I realized the stupid filter apps degrade the quality of the photo and doesn't even ask me if i want to save it as a png or whatever to preserve the quality. so i ended up f'in that and just put up a regular iphone photo. i shouldn't waste my time with stupid details like that anyway)
Price:
both products are 150 ml.
Cosrx is around 10 dollars on amazon
LJH foaming cleanser is available on hkcplaza with free international shipping. if you grab it while they have 60% off or something outrageous like that it comes out to somewehre between 14 to 17 dollars ( I don't remember exactly what I paid)
Both are foaming cleansers so they will last A WHILE IF YOU USE A FOAMing net which is really cheap. you can make 5 of them from the puffy lufa (?) from the dollar store.
Lather : LJH gives a better lather. The foam is more dense when i make my bubbles witih theh foaming net. They both foam.
Scent: they both have a tea tree oil scent. the scent is stronger with cosrx one. The scents of both products don't bother me but I do prefer unscented products.There is no added fragrance or liomene or floral extracts etc which are irritating to the skin & that is a must for me.
Cleansing Power: so I do double cleansing so I don't particularly rely on the second cleanser that hardcore. My face feels clean and I have no gotten any acne from these cleansers. The most hardcore thing I put on my face is the waterproof sunscreen from biore which does not come off a single round of a foaming cleanser. that sunscreen is tenacious and requires double cleansing
HYDRATION – so RECENTLY I used a non-ab product that had a high review on paula's choice beautypedia which is the juju bar from drunk elephant ( also low ph and unscented) . The way I go about my skincare routine is that I wash my face and then I do shit and so my face ends up completely drying. I think that letting your face completely dry up is the best way to test how drying the cleanser is. SO anyways usually when I use the cosrx cleanser my face is tight to the point where I can't move my face and make facial expressions. I thought that was because I have dry skin and I do have dry skin but that's from the cosrx (I can't believe that was the NORM) . WHen I used the drunk elephant for several days in a row since I felt bad not using it frequently ( the reason is the peeke bar is more for daily cleansing since the juju bar is exfoliating with clay bits) I noticed to my completely surprise how I could move my face and that my face felt less tight. SO i did the same thing with the LJH the next day and was delighted how much I could move my face( feel comfortable doing that) I don't know for sure which one is better with cleaning without drying my skin out but the cosrx is a FAILURE IN THIS RESPECT. After this discovery I relegated cosrx to my body to be mixed with the 5% benzoyl peroxide body wash and I don't notice my body being dried out…. It's low ph which I love 🙂
So in conclusion 1st place is either LJH or drunk elephant juju bar or peekee bar ( if the juju bar is good the peeke bar must be good too)
and COSRX is 3rd for sure. You would think that because it's cosrx and it's low ph that it wouldn't be drying but it is. SO maybe people who don't have dry skin don't notice the difference between cosrx and ljh or cosrx and drunk elephant… but for me there is a clear difference.
Cleansing is an important step of your skincare routine and using a drying cleanser on a daily basis is probably wreaking a lot of havoc. I'm glad I made this discovery and hope to have served other dry-skin people.
I'm now really interested and excited to try out cleansers from cerave and paula's choice. I'm excited to find the cleanser that's at the right price point and cleans without drying my skin. It's something I wash off my face so I really don't feel the need to spend all this money on it. I'm not sure how expensive drunk elephant is because it's bar and it's half the size of a regular soap bar. If you use the foaming net and only use that to wash your face and neck I think it'll last a long time. I got the peekee bar on sale this past black friday so I am looking forward to cleansing without the exfoliation that I get from the juju bar.