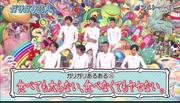 So I just made a post about my progress in Korean and all that I've learned… (if you want more concrete info you can check out my anki deck by searching choronghi.. .but Like I said in that post I don't really use my anki properly for Korean so I know probably 50% of the words in there as in if I were to encounter the word in a Korean show even if the card is in my deck I'll probably look it up again!! because I have no idea if that card is even in my deck)
But then again I just learned the word "and" in Korean which makes it sound like my Korean comprehension ability is really basic and shoddy.
삼사위원이자 3반 트랙의프로듀서
When I came across this sentence in UPRS season 3 my gut instinct was DO NOT LOOK THIS SHUT UP IN THE DICTIONARY. IT WILL NOT BE THERE ( my gut feeling WAS RIGHT. I hate wasting time looking up shit that is not in the dictionary which is way more prevalent in korean than japanese). FYI all the japanese grammar is IN THE japanese monolingual DICTIONARY While for some korean doesn't list all the grammar. wtf. So I went to chiebukuro and asked and no one answered and I wanted an answer sooner than later so I enlisted the help of the lang-8ers on lang-8 sure enough they came swiftly to rescue me from the frustrations of not understanding stuff.
here's the explanation I got from a very helpful lang-8er 🙂
http://lang-8.com/869713/journals/146699303559777214863145541300399146030
That's really high level grammer. Even though Korean, It's difficult to differentiate their nuance. So, Korean SAT(수능) used to set them as questions. I'll try to expain but I can't be sure about that you can understand my poor english.
First,
As you know, "~이자" has no diffences in meaning with "랑/하고/과/와".
"~이자" is actually combined thing with "이" and "자"
"이" is predicative pospostional particle(서술격조사). it can make "~이자" uses after noun.
and
"자" is conjunction. it can make "~이자" has meaning as "and".
"~이자" is more like "at the same time" in english rather than just "and", because "자" has meaning of 'sth possess some qualification and another qualification'.
So, you can easily find "~이자" after human rather than things.
ex)
i) She is my mother and my best friend.
ii) She is my mother at the same time she is my best friend.
– ii) is more often transelated to "그녀는 나의 어머니"이자" 나의 좋은 친구 이기도 하다." in korean rather than i)
Two,
I am highly recommend you use "그리고" rather than "랑/하고/과/와" and "~이자" as a meaning of "and".
there are some grammatical rules in use them.
For example, "랑" and "하고" is not recommended to use in formal language especially dissertation and contract. because, they are colloquial style.
However, you can use "그리고" in anytime and any situation.
I get these moments in Japanese where I'm like even though I read a 100 books and watched thousands of hours of talk/variety shows I'll come across something (words usually…) that seems so basic or easy or common sense that I still do not know… but none of them have been this extreme where I didn't the word for "and" lol. Just thinking about the word "and" in English it just seems so ludicrous that I didn't know it. I definitely could not infer the meaning from the context. And hopefully with that there are no more words for "and" in Korean that I do not know about… if it's like archaic shit that hasn't been used since the 1500s or something that's fine (I don't give a shit) but if it's actually used like in an episode of UPRS I am embarrassed to not know it lol.
actually isn't the more appropriate word to translate ija cum? If I think of it that way it is kinda advanced. I have yet to ever hear anyone use the word cum in speech. I've only read that usage in the books.