1. 1000 words I've looked up on naver since not sure… (I don't think it keeps track of every word I've ever looked up)
holy moly it turns out that I had looked up a 1000 words on my NAVER Korean to Japanese app on my iphone. This discovery prompted me to write this entry. So I pretty much only use this app when I watch Korean TV via my computer and by Korean TV only specific TV shows that interest me since 90% of Korean TV just bores me to death (but you know what I could say that about American TV due to sheer volume of TV but they American TV have some good dramas). I find that to be astounding because I really do not watch that much Korean TV compared to Japanese TV. the only Korean shows I watch are show me the money and unpretty rapstar and sporadic episodes of talk/variety shows only if a Korean celebrity I care about is on it (lately I've been into watching gypo/foreigners – not the beauty suda show though… ) . it must have been over the course of the year… if I had to take a stab at it … in one ep of unpretty rapstar I could look up anywhere from 10 to 30 words just because I usually need to do that with rap lyrics.
ANYWAYS that number is mind-boggling and it just goes to show you every little thing really adds up especially if you use a srs or gold-list method etc.
2) I had recently decided to take a stab at spanish again. here are the reasons why : I learned spanish FROM MIDDLE SCHOOL TO HIGH SCHOOL ( which is about 6 years) and got straight A's but I suck it and I think I wanna finish what I started, I live in America (so unlike Japanese I'll actually hear it incidentally going grocery shopping etc… for Japanese if I was super lucky on a given day there will be 2 Japanese people chatting next to me on a NYC train), it's similar to English (which means it would be that much more motivating and EASY… though I must say they are STILL different languages so it requires serious adjustment to tune my brain to spanish way of thinking)… and I thought due to similarities with English perhaps it would be strategically more smart to go heavy on immersion vs. learning grammar/useful vocab and so in that process I attempted reading a book in spanish. for most spanish learners reading is easier than listening comprehension… I thought it's similar to English so I should be able to figure it out but damn it's still hard due to vocab that is uniquely spanish vocab and have no resemblance to the English counterpart and the spanish grammar. I'm not used to spanish grammar so it's tiring trying to follow what's going on since my way of thinking is only comfortable in the English, Japanese, or Korea way (I tend to just read it but not actually process IT since it's written in an alphabet like English. so I guess reading spanish like reading unknown English words though I TRY TO READ IT WITH the CORRECT spanish pronunciation AS MUCH AS POSSIBLE). SO I MENTION THIS because although spanish is SOOOOOOOOO similar to English due to my lack of time spent with spanish it's pretty damn hard… but I find Japanese so easy and fun to read due to all the time I spent with it. So my shoddy spanish comprehension just shows me just how "good" my Korean/Japanese are.
3) I am adding cards in MCD format and modifying old cards to MCD format. I wasn't not able to do this before because korena was just not familiar… it truly would be draining and ineffective. So there are cards I am converting to the mcd format so i can FINALLY LEANR THAT WORD. i have so many words that i see it and have no idea what the fuck it means. it doesn't matter how long it's been in my deck since I TRULY TRULY half ass my Korean deck because I just don't give a shit so there will be cards in there from 2 years ago where I'll take a look and have no f'in clue what it means. so if my retention rate for my Japanese deck is 90% then my Korean deck would be like 40/30/ or 50 % just because I don't give a shit… I don't use my Korean deck for srs in the sense that I could never remember the cards but still plow through picking 2's and 3's just because I know there's no point drilling them. The MCD format that I a m currently employing involves BLANKING OUT the Korean part or the Japanese/definition part. for the Korean part I choose the most obvious or easy to remember syllable so anything with a BACCHIM is usually a hell no unless I'M REALLY FEELING THAT BACCHIM to mean what it means.
*** 새치___하다
取り澄ましている;おとなしいふりをする
back:
름 何食わぬ顔をする;そしらぬふりをする。
front:
___프다
//長持ちしない;減り方が早い;もろい。
back:
헤 しまりがない;不経済である。
front:
유___을 떨고
変わっている
back:
난 // 言行や状態が普通と全く違う[こと; 並外れなこと; 際立っていること; 気難しいこと; …にやかましいこと.
front:
__결같은 내 태도</
**처음부터 끝까지 변함없이
back:
한/ 처음부터 끝까지 변함없이 꼭 같다.한결같은 태도한결같은 마음둘 사이가 10년이
front:
「짤___」自体が造語で、「写真」、「動画」の事を指すようです(※詳細が分かりませんでした)。
back: 방
front:
회사빨 ___까 이제는
** 좆까(fuck you
back:
조/// 좆까(fuck you)を発音通りに書いた、좆까の遠回しの一つです。
front:
소재가 없으면 꼰____가 되나 봐 그렇지
素材がなければ****年老いたやつら
back:
대///先生になるみたい そうだ
꼰대は年上の人や父親を意味します。
少しニュアンスは違いますが、***老害的な…。ネガティブなあまり良い言葉ではないと思います。
そこに 行い を表す 질 と ~に の 에 がついています。
なので、全部合わせて
꼰대질에 썩은 웃음
大人の行いに腐った笑い
という感じの意味です。
front:
____상」とは無知からであれ故意であれ人に___惑をかける様またはそういう人を言います。
back:
진 // 迷
Like I said I don't actually do my deck so I read the MINIMUM amount.
basically I would never ever remember any of these cards if it weren't for the MCD FORMAT.
4) A Korean book I tried to read/learn from years ago… I'm going to guess 2012…. since i started korean summer of 2011?? I think I made index cards out of them to do manual srs or just said f'it and scrapped the whole thing. wait never mind i did that with hanja words on a japanese site that told me how to convert the on-yomi to the korean readings.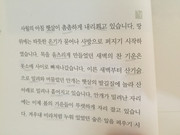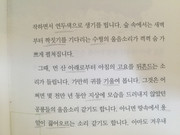 just for the competitive bastards who might be reading my blog here are a couple words off those pages that I do not know. it doesn't bother me one bit. as far as I know in this point in time those words are useless. I love that I have this attitude towards Korean because sometimes my attitude towards Japanese was too much…. learning to let go is very important. if it's that important it will show up again. but if you're trying to become super fluent you gotta realllllllly go after the intensity and the duration to learn a lot in a short period of time. I don't have that desire with Korean because I already achieved it before lol. that is super demotivating. I strive for efficiency!
촘촘
움츠리다
산기슭 know it has to do with mountains but don't know the actual meaning… perhaps mountain range?
반길질
수꿩
짝짓시
용암 actually I think I know this word…. due to my knowledge of the kango reading conversion from Japanese to Korean. it's mostly like YOUGAN in Japanese.
some of these words may actually be in my srs (probably from adding them from another source besides this book) but I have no idea because I don't really take my Korea srs like ido with my Japanese
Looking at these underlined pages (in pencil) now I will say that I still do not know all these words but now I actually do know some of the words…. by know I am very familiar with them. HOWEVER unlike Japanese where I had a burning desire and motivation to learn like all the words to get super fluent I had and still have a don't give a shit attitude towards Korean (I don't have a desire to get fluent). So my attitude towards the words that I still do not know from these pages is that the words are probably really useless. By useless I mean… I haven't encountered them recently and they're being used in this short story so these words are probably not of interest to me. the words I'm interested in learning in Korean are words that I find useful and actually encounter ( to ensure I'll actually remember/retain the information because other wise it's a WASTE OF TIME) . I think as language learners we should be as picky as we what want to learn when it comes to learning words. do whatever you need to do make it enjoyable or bearable etc. delete those SRS cards that just suck. another reason I don't even interest is I have more interest in learning Korean words or grammar or phrases in rap songs because those tend to have the latest slang and offensive terms that I should KNOW! lol. smtm and uprs! I've mentioned this before that I hate reading Korean because I'd rather read Japanese or English because Japanese has kanji and English is such a useful language (they just both have more going on in the book industry and I just cannot stand reading Hangeul).
here is the mediafire .rar of the pictures files in case postimage.org craps out like imageshack.org
http://www.mediafire.com/download/2j88cv6ad5a9z27/korean-book%282%29.zip
this is actually 2 numbers because besides having this awesome attitude… I actually know most of the words that are underlined!!! There's nothing like looking at something that's super difficult and tedious now seeming less ridiculous and more appropriate for your learnig level. BUT even though the book is now at my level i won't bother reading it because I don't want to read it. As good as it feels knowing I know all these underlined words after 4 years when it comes down to it I have no desire to read this book. Like I read english books but I don't just read anythig, same with japanese and the same with Korean but I really don't like reading korean that's uninteresting.
i was thinking how the pictures of this novel with words underlined make it seem like I suck at korean but then this other post where I put plus signs makes it seem like I'm really good at korean since the novels is underlined like crazy and this text I marked isn't marked like crazy., it makes sense that I get these kinda polarizing results because I focus on conversation and words that come out of people's mouth since I'm learning from interesting talk/variety content rather than reading novels all day. anyways here is the post from 2013 with the plus signs.
https://choronghi.wordpress.com/2013/03/01/finally-learning-from-this-source-lol-korean/
Like I've said in other blog entries despite what people may think heritage language learners have it tough too I that despite what "advantages' you think they have it's very possible that they suck. and I personally don't believe anyone should be obligated to learn their heritage language… people can learn whatever language they want to. So here are some EXAMPLES I can remember since once you get better at something you forget the struggles and whatnot (though I have not reached this point in Korean, only with Japanese).
Before I started learning Korean which I started after learning Japanese I did not know common, useful, easy words such as
심하다
상처
초등 in 초등학생
at that time as far I knew they weren't common lol.
OMG here comes the clincher. AN EXCELLENT EXAMPLE of something that i probably understood but I would've never been able to produce myself. this is something that every heritage learner probably says….
that infamous line we all have to say at one point" I can't speak korean"
so if you asked 2012 me pre-korean learning how do you say that… I would've said
한국말 못해요. I think that's fine and dandy and really emphasizes that you really suck at korean but the better grammar construction is 한국말할줄몰라요. forget the damn particles, you're just speaking and if the person understands you it's fine.
But in all seriousness if somebody asked me that and I wanted to answer with I don't speak Korean I would say it in English so it's a nonissue for me. lol…. but just wanted to give an example.
there's may be more but I can't conjure them up since it's very difficult trying to remember something that you used to be unfamiliar with that you're now familiar with.
here are some words that I consider REALLY easy that I added back in 2012 January
다정
예의
버섯
looking at it actually most of the words are still hard lol…. probably more familiar than they were in 2012
5) I only try to learn real Korean lol. like I said before I have to use a lot of Google and chiebukuro because stuff I look up are NOT in the dictionary. likewise lately for Japanese I've been looking up 誤植 in Google, find nothing, ask on chiebukuro ad have Japanese people tell me that must be a typo or somebody made that shit up.. did you mean to type this? seriously it's gotten to this point lol….
there have been so many times with Korean where I would've never figured it out had I not asked on chiebukuro. it's just one of those things where only native speakers know it and can explain it. but seriously BEFORE I even embarked on my language learnig journey I had an instinctual conviction that korean is going to be harder than Japanese and this is one the ways that KOREAN is so damn cumbersome. for japanese i don't have to ask on chiebukuro to the extent I do with korean to the extent i do with korean since google just PLAIN works.
5) blame Korean people for not being able to understand.
lol how arrogant?? you may think. it applies to instances where I cannot understand the person for speaking unclearly. for example if a rapper has poor diction I may not be able to understand them…. or maybe their diction is just okay… but as a rapper your goal is to be clear as possible so people understand you since you worked so hard to write those lyrics down. here's an example for English speakers… do you understand Adriana Grande when she sings… your answer is probably sometimes unless you memorized your lyrics and force yourself to hear for the words. she has poor diction. there's no fucking way me not understanding her has to do with my English abilities. here's another example can you understand chingy when he speaks English lol…. j/k but seriously wtf is wrong rappers like him who can't speak English.
for Korean TV for some reasons 2 of the "top" mcs are hard to understand cause they don't speak standard Korean. one of them looks like zakiyama and speaks in the intonation of this dialect and it sounds so noisy and unpleasant. I don't even want to understand what the bastard is saying because it's that ear-grating ad I know Korean mc's compare to Japanese ones…. it's a natural result since the owarai thing is so big in Japan. in an episode of happy together all the foreigners were like I can't understand that bastard and I had to translate what he saying into my native language for some TV show. I don't know what's up with the other mc but he's damn grating too. STENTORIAN!! Just throwing that in there because like I said in another entry I don't want to sound like Kim kardashian when I turn 30! but seriously I hate it when people on Korean TV shows get super loud to say the most boring pointless shit. stfu…
6) not relevant to this topic exactly but I wanted to touch on that annoying question how long does it take to get fluent in x or what's the shortest possible amount of time. So like I said I am not fluent in Korean. There are too many fucking words in korean that I don't know including probably the majority of the curse words. I was thinkng I started 2012 but I never gave too much of a shit and most of my time is dedicated to japanese
but even then I still improved significantly considering 4 years is a long time. Slowly but surely there was improvement. I'm at a point where I can abuse Mcd and drill 50 words a day and succeed if I really wanted to ( which I totally did did with japanese) . It just would not have been possible in 2012 and once you learn a language you know when is the right time to be drilling any and all unknown words you come across because you know you can remember that because you have this huge repertoire of words you already know and a strong familiarity with the language. But I don't want to do that because I just don't care like that. 🙂
So if you want to be fluent in 2 years etc you gotta akatt and engage with the media
That's about it. Can say much more but I have a life.